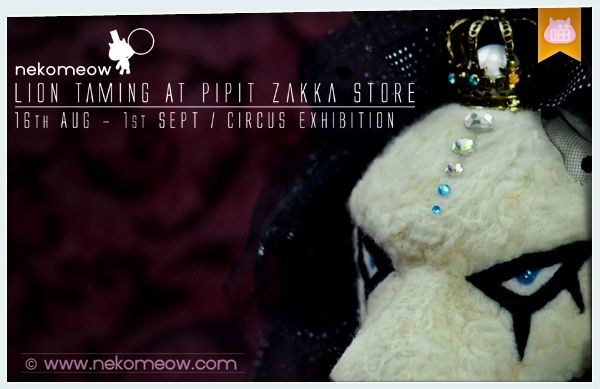 Exciting Announcement:~
Ladies & Gentlemen, Children of all ages,
This August, nekomeow is delighted to present to you
~☆The 2013 Nekomeow Lion Taming Show☆~! at Pipit Zakka Store~
(In collaboration with The Bugaboo ~☆CIRCUS☆~ exhibition & many others great artists!)
Don't miss this this fun and exciting event! See you there~!
LOCATION: Pipit Zakka Store
11-2, Jalan Menara Gading 1, 56000 Tmn Connaught, KL Malaysia
DATE: 16 Aug – 1 Sept 2013 ( Fri ~ Sun Only )
TIME: 12pm – 7pm
COST: FREE! No tickets needed
号外!号外!
這个八月 nekomeow 将会特别在鳥人雜貨鋪 Pipit Zakka Store 为大家呈现
~☆2013 Nekomeow 驯兽师 动物马戏表演☆~
(配合The Bugaboo ~☆馬戲團☆~及其它优秀的艺术家)
大家可别错过这精彩的活动喔~!
地点: 鳥人雜貨鋪 Pipit Zakka Store
11-2, Jalan Menara Gading 1, 56000 Tmn Connaught, KL Malaysia
日期: 8月16日~9月1日 ( 星期五,六,日 )
时间: 中午12点 ~下午7点
入场费: 免费!无需入场卷